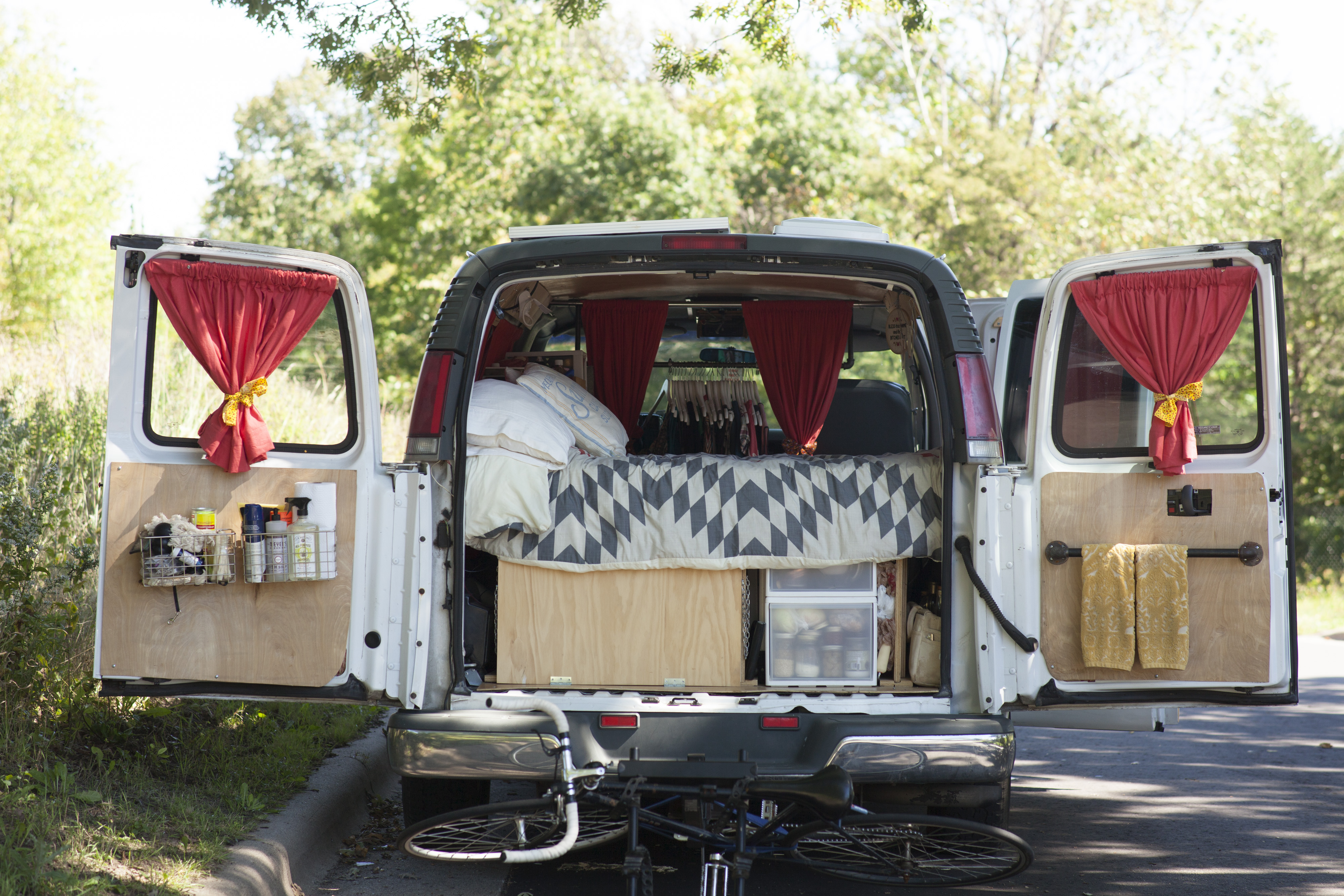 Blog post originally posted on Van Life Explorers. 
One of the most difficult parts of beginning van life was figuring out what exactly I needed. I got rid of so much stuff, but am constantly haunted by this feeling that I still have too much. I enjoy a tidy space, so van life has been particularly challenging to find the balance between tidy and still fitting everything I need in the space. Most of the time my conclusion is that I don't actually need that thing and would rather get rid of it than make my space too crowded. Yet, I also wanted to be careful not to get rid of something that I would need further down the line. In addition, there were definitely things that I needed to buy along the way that I had not expected to need. So as you prepare for your life on the road, I've compiled a checklist of my must-haves:
Propane Stove $40
I use this stove every single day. Even if I am eating cold or raw foods for meals, I cannot go a day without my coffee. I use an aluminum espresso maker, which does not require filters, so all I need is water and coffee grounds. I also have a hand grinder to grind my beans. The hand grinder takes a while to get the quantity that I need to fill the pot, but it makes for an excellent cup of coffee. I have to say that I have grown to enjoy my mornings staring into the mountains, grinding my coffee to start off my day. It is quite peaceful. Then just put it on the propane stove and in ten minutes, you have fresh brewed espresso! You do need to keep your propane tanks stalked as well.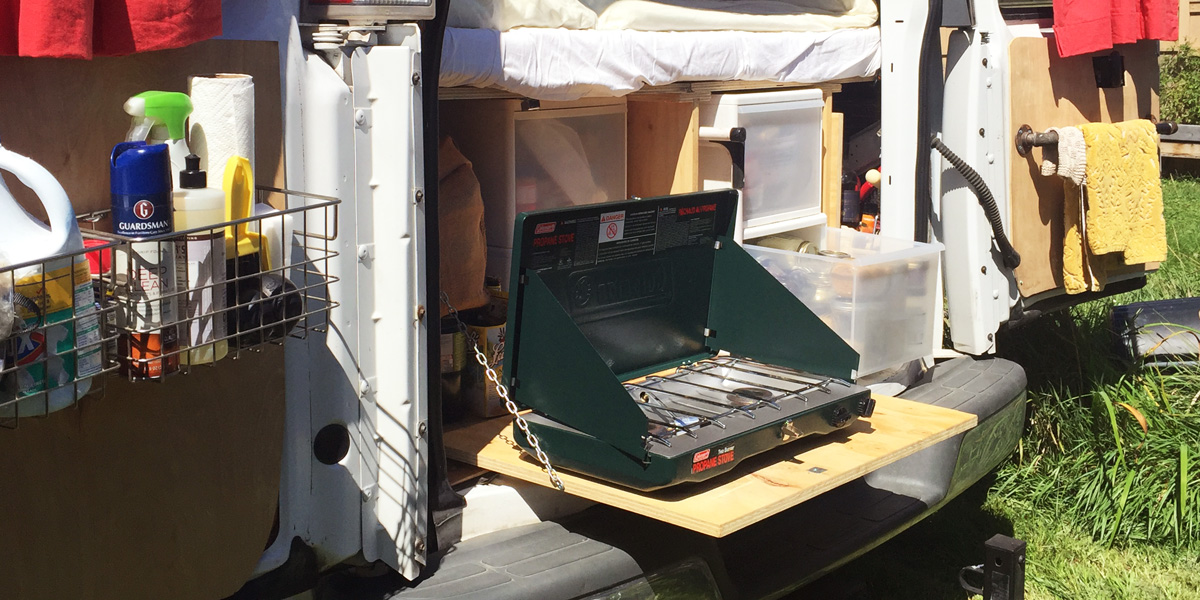 Cooler $45
I have solar panels that are bolted to the roof and I started off my journey with a small mini fridge that I used to keep my food fresh. However, I quickly learned that if I did not have a full day of sun, the two 100-watt panels were not enough to power that little sucker. Sometimes in the middle of the night my inverter would start beeping at me because the battery ran out of juice. This was (clearly) super annoying and I did not want to drop the $800 bucks on an energy-efficient fridge, so I decided to go old school and use a small cooler. I do have to spend money on getting ice every day, which ranges from $1.50-$3.00 depending on where in the country you are located (pro tip: don't buy ice in Aspen, CO), but it was worth saving the solar energy for other more important things.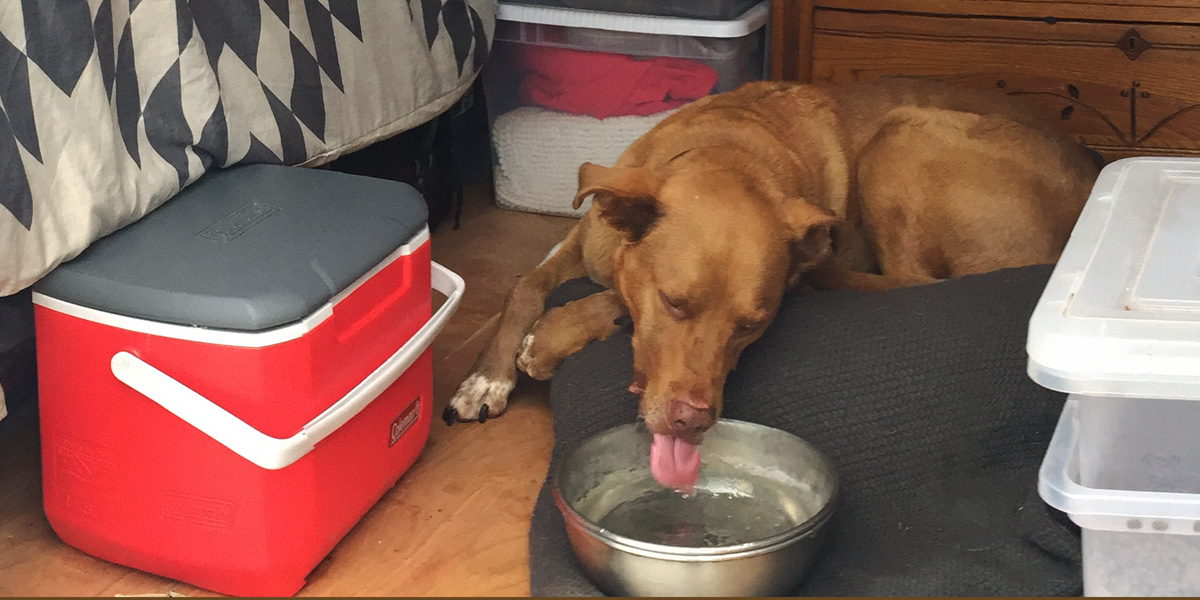 Cosmetics + Toiletries
I am not a high maintenance girl, but I do like to stay clean and take good care of my skin. This could apply to men or women – these are the main items that I use every day:
Cleansing towelettes: disposable face cleansing cloths for when you don't have water to wash your face. After driving or hiking all day, there is not much better than having a clean face.
Sunscreen: Summer, winter, it doesn't really matter; when you are in high altitude, you need sunscreen. Your 80 year old self will thank you.
Bug spray: I cannot tell you how many times I've stopped at a state park for an evening run and quickly realized I would need about a gallon of bug spray for the woods I was about to embark on. This is a no-brainer for any vanner since we spend most of our time outside.
Dry shampoo: I often go 3-4 days without showering and I have both thin hair and bangs, so dry shampoo is a life-saver for what would be a grease ball on top of my head. I mostly use it on my bangs and it at least keeps me looking somewhat like a normal productive member of society.
Chapstick: I am a particularly dry-skinned person, so I have chapstick in every bag and every compartment around the van. I probably have a dozen different ones, but I use them ALL the time. When you're hiking in the desert, you'll thank me.
Biodegradable shampoo: You can buy this a REI or any outdoor store, but biodegradable shampoo is incredible to have on hand when you are hiking. I bathe in rivers and lakes more than I do showers, so this gives me peace-of-mind that I am protecting the environment while still able to stay clean. I use it for everything — my hair, soap for my body, to shave my legs and wash my face. I prefer to have separate products for each of those things, but when you are in the woods, beggars can't be choosers.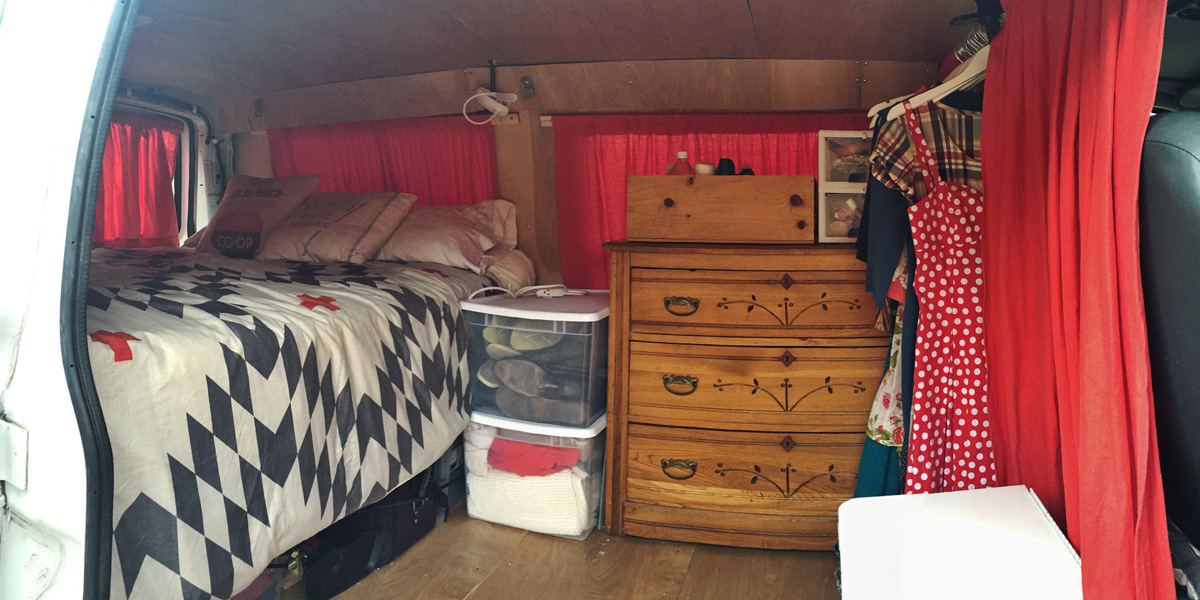 Ceiling Fan $124
When I first got on the road I did not have a fan in the ceiling. It got so hot when I was sleeping because I wasn't able to keep the doors open for safety reasons. I also worried about leaving my pets in the van without a fan, so this was an imperative addition. Especially when you are in the mountains, this is all you really need to stay cool at night. Open a few windows, turn on the fan and the cool mountain air will keep you comfortable. I have it hooked up directly to my solar panels and am able to track which speed settings will use what amount of power.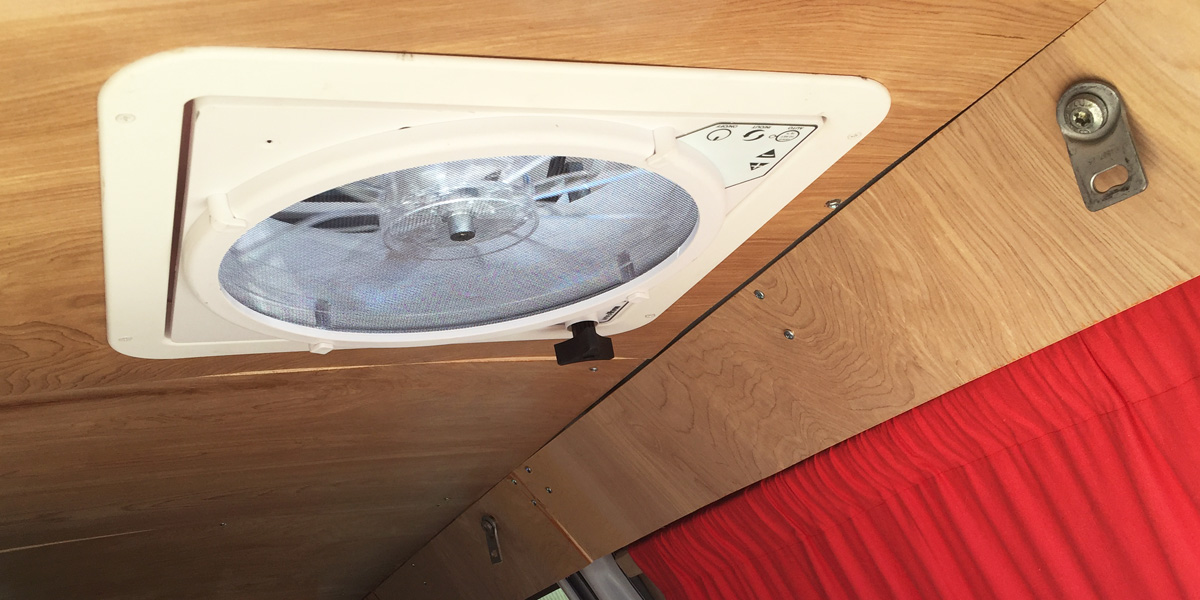 Portable Speaker $65
This little portable speaker is my best friend. I prefer to use it when I am driving rather than the crappy speakers that came with the '96 Chevy. All I have to do is hook up my phone up to the Bluetooth and we are off to the races. The sound quality is great and the size is perfect for what I need. Each battery charge lasts me about 8 hours of driving and it uses a micro-USB, which I can plug right into my adapter to charge while I am driving. I take this with me when I am working at a park, hanging out in the van, camping, etc. It's small enough that you really can bring it with you anywhere. Music is a huge part of my life, so good speakers are a must.
120-Watt Power Inverter with USB Outlet $20
I spend so much time on the road, that I mind as well make use of the car battery when I am not using it for the van, hence the power inverted that I plug into the cigarette liter. It's been great to be able to save power from the solar panels and plug into the cigarette lighters from time to time. I can charge my computer, phone, speakers, lamps, headphones, etc. Almost all of my accessories need to be charged, so before I hit the road, I'll plan out what all needs to be powered up and make sure those things are on hand near me during the drive.
Camel Back $77
I went on several hikes the first month or so where I used just an old backpack that I had on hand. After a few 5-6 hour hikes several days in a row, my shoulders were killing me, so it was time to invest into something better. I started to think about how much water I drank on a long hike per day and decided that the 70 oz Camelbak would be good for me. I could always fill up extra water bottles to pack in the side pockets if I needed them. If there is anything I've learned, it's that I drink a ton of water on my hikes, so I wanted to make sure to have enough for a day, but not over do it with weight. I liked that there were also several other compartments in the pack for things I would need on a day trip: Rain jacket, flashlight, snacks, change of socks, bug spray, sunscreen, battery pack charger for my phone, Polaroid camera, etc. It is incredibly comfortable and I have no regrets with this purchase.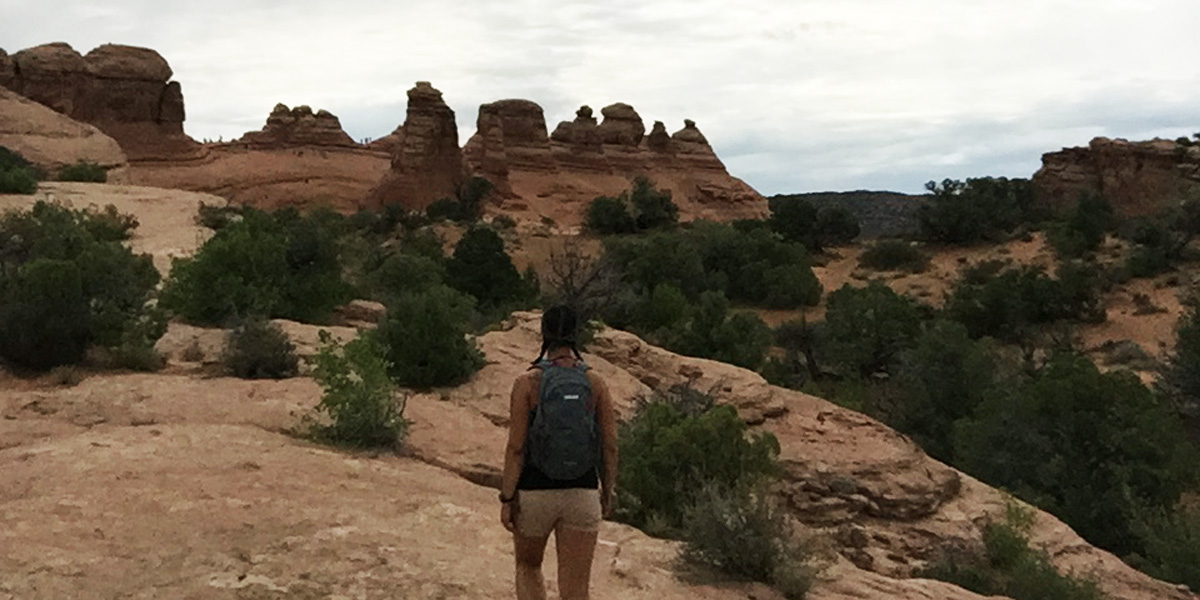 Bike Rack $199
This was another purchase that I did not make right away, but knew early on that I would need it. At the beginning, I was storing my bike on my bed and had to pull it off, lock it up somewhere while I slept and haul it back into the van in the morning before leaving. This was a huge pain in the ass. The bike rack I chose has been awesome to have, it hooks into my hitch, it super stable, but also folds down so that I can open up the back doors and easily access my kitchen area. It has space for two bikes, which is all I really need, but you can buy ones that are 3 or 4 bike if you need that.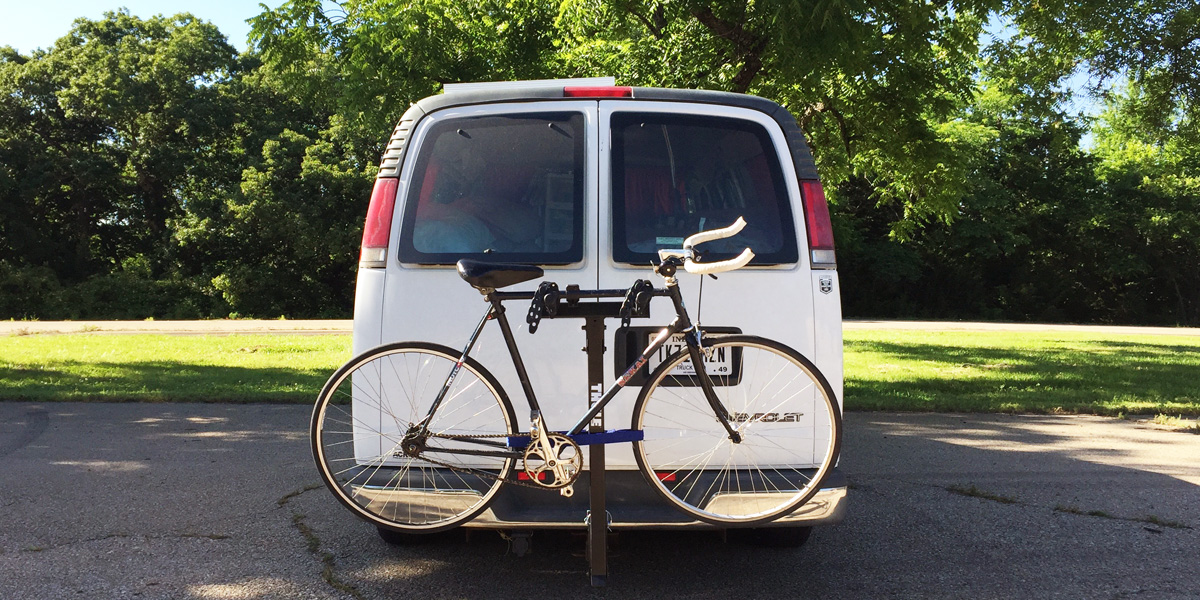 Kitchen Supplies
I have never been much of a chef, but I do like to cook at home rather than eating out, so I had to think strategically about which kitchen utensils I would need on the road. I have a full drawer compartment of cooking accessories, but here are the essentials:
Medium Pot with lid for cooking rice, heating up water.
Cast iron skillet for eggs, meat, stir fry. I actually have two, one small one for eggs and a medium sized one.
Small pot for heating up milk – this might just be specific to me since I like milk in my coffee.
Wooden spatula for cooking in the cast iron.
Bowls – I prefer to eat out of bowls, so I keep 4 of these on hand.
Silverware
Coffee mug – Splurge on one you love because you will be using it a lot.
Nalgene – this is a no brainer, but I use this instead of a cup.
Medium bowl for mixing salads or peanut butter balls
Hand coffee grinder
Coffee pot (or in my case, espresso pot)
Tupperware for leftovers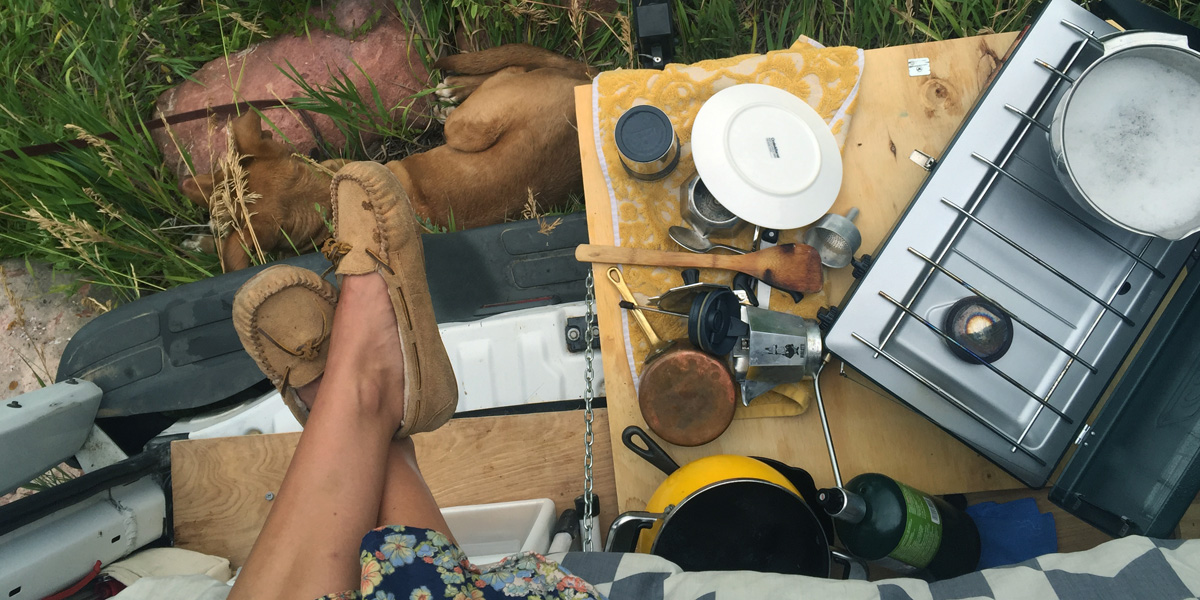 MiFi Wireless Hotspot $100 + monthly data
This proved to be imperative for me to do my job on the road. I work in marketing and need to have access to the Internet at all times. There have even been cases where I am at a coffee shop and the WiFi sucks, so I turn on my MiFi instead. I pay for 24G of data per month, which is enough for me to use this on a part-time basis. It's great when I'm in small towns or somewhere where the WiFi is not reliable. It's definitely saved my ass when it comes to client calls and getting projects done on time. If you have a remote job, this is worth the investment. Think of it as job security.